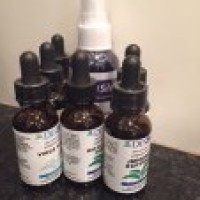 At the onset of illness or if you have been in the midst of others with the flu/cold:
Take 1-2 raw garlic cloves immediately. You can wrap them up in lettuce leaves, apple slices or drink them in warmed chicken broth. Key is to eat them raw, so add the raw garlic to a mug or glass and pour the warmed broth over it.
Double up on good quality Vitamin C supplements.
Incorporate Garlic odorless supplements.
Take ViraStop on an empty stomach twice daily which supports immune function by breaking down protein invaders leaving them vulnerable to the immune system.
I've packaged the top immune-boosting supplements in two Immune Boost Packages, one is herbal and the other is homeopathic. I keep both on hand as my first aid cold & flu kits and if you want to order your Immune System Herbal Package or Immune System Homeopathic Package then check them out at my online STORE.
Echinacea herbal combination supplement designed to provide a short-term boost to the immune system. The botanicals have been shown to support activity of T-cells, macrophages, and NK (natural killer) cells, making the immune system better equipped to fight off  pathogens. Can be used as an immune-booster in the presence of acute symptoms. For long-term, use in a pulsed fashion (3 weeks on, 1 week off) to avoid over stimulation of immune cells. Not recommended for use for chronic infections or in autoimmunity
Take homeopathic remedies that target Virus, designed to help the body combat infection and address the multitude of symptoms associated with viral illness. Helps provide temporary relief from chills, fever, runny nose, body aches, and stomach discomfort.
Homeopathic remedies that are immune strengthening, designed to enhance natural immune defenses and support immune cell activity in the presence of infection to protect the eyes, ears, nose, throat and lungs from both viral and bacterial pathogens. Can be used as a long term form of immune support or as an immune-boosting tonic in the presence of acute symptoms.
If one is experiencing flu like symptoms involving a bronchial cough then add remedies to help soothe irritated mucous membranes and support the relief of persistent, hacking cough and itching of the pharynx. May also support expectorant activity, promoting the elimination and drainage of mucous.
If one is experiencing sore throat, then remedies chosen to calm inflammation and itching of the tonsils and pharynx to soothe throat pain and discomfort. Promotes relief from persistent cough, breathing difficulties, and chest pressure while supporting the body in fighting infection.
These two herbs are powerful: Mullein and Pau d-arco. Mullein comes in capsule, tea or liquid herbal that may provide relief from symptoms associated with respiratory infection by promoting removal of mucus and bronchial relaxation.
Pau d'arco have many immune-stimulating properties as it activates human immune cells (lymphocytes and granulocytes) that mediate immunological reactions. What this means is that if you have a cold or flu and you need to kickstart your immune system then  Pau d'arco is the herb that can assist. It has been studied in Germany at the University of Munich to actively inhibit the growth of several viruses.
Smart Silver is a powerful antimicrobial agent that, unlike alcohol-based sanitizers, distinguishes between good and bad bacteria. These topical gel, liquid, and spray formulations protect against infectious organisms while leaving beneficial bacteria unscathed.
Incorporating proactive supplements, herbals and homeopathic to protect against the flu and cold epidemic is crucial this time of year.
If you want to order your Immune System Herbal Package or Immune System Homeopathic Package then check them out at my online STORE.
Here's some additional information on my YouTube video for more on Cold & Flu Natural Remedies.
Disclaimer: This information is supplied for educational purposes only. It is not for the treatment of any individual person or disease. If you are suffering any particular complaint please consult a physician or call emergency services.
Tags: anti-aging diet, anxiety, Cold, detox, Flu, Functional Medicine, Health Living, Morgellons, Nancy Guberti, toxicity, weight loss, Wellness