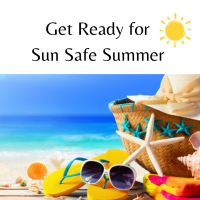 Staying Sun Safe and Healthy this summer is an all-important discussion because there are many toxic products in personal care products, including sunscreens, bug sprays, and body lotions.
When discussing hazardous chemicals in sunscreen, we don't want to discourage people from being sun safe, so here are helpful tips, healthy sunscreens, and lotions for sunburn.
Sunscreen plays a crucial role in preventing health harms from sun exposure, such as skin cancers, but experts say it's vital to evaluate ingredients to ensure they aren't creating new health risks. Indications that oxybenzone could affect the body's hormonal system have led to calls for its removal from sunscreens. Some sunscreens fail to achieve their stated SPF (sun protection factor) rating, and many do not protect against UVA radiation, a part of the light spectrum that doesn't cause sunburns but can cause skin cancers. 
Sunscreen is just one tool in your summer toolbox; here are tips for staying sun safe this summer:
Understand the strength of the sun.

 Between 10:00 a.m. and 2:00 p.m., the sun is the strongest. Remember to seek shade when your shadow is shorter than you.

Wear

 a lightweight, long-sleeved shirt, pants, sunglasses, and a wide-brimmed hat to protect yourself.

Apply sunscreen to the skin that is exposed

. It would be best to have a broad-spectrum protection sunscreen, water resistance, and SPF 30+.
Sunscreen plays a crucial role in protecting your skin from the sun as it can:
Prevent sunburn

Reduce your risk of developing skin cancer

Decrease signs of early aging on your skin, like wrinkles, age spots, and sagging skin

Reduce the risk of dark spots appearing when acne, psoriasis, or another skin condition clears

Stop existing melasma from darkening and new patches from appearing
Here are my top picks for enjoying your Sun Safe Summer:
https://us.fullscript.com/protocols/nancyguberti-sun-safe-summer
We deep dive into all these topics in the Total Wellness Empowerment Membership. If you are finally ready to take charge of your health and life, become a member today.
If you want a career you love and set your schedule to build your best life now, then register to become a certified health coach today. Why wait?
Here's to your success and reaching total wellness of mind and body.
Nancy Guberti is a Functional Medicine Specialist, Nutritionist, and Author, and she is passionate about empowering others to become their health advocate. She is the founder of Total Wellness Empowerment Membership & Podcast, Look and Feel Great Method, and Total Wellness Empowerment Institute. Learn more & be empowered at nancyguberti.com.
Tags: Bug Spray, functional medicine practitioner, Healthy Sunscreen, Nancy Guberti, safe sunscreen protection, sunscreen, toral Wellness Empowerment, Wellness