Want to reach total wellness of mind & body?
Healthy Living Everyday
Healthy Living Everyday is your wellness blueprint book offering an array of alternative healing and preventive therapies, with 365 pages of reflective questions, empowering truth, and simple steps covering many alternative factors to wellness.
Available at Amazon in paperback or Kindle.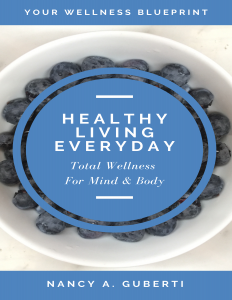 Ready to take the next step to achieving optimal health and detect critical health conditions before they strike?
Nancy Guberti, M.S., C.N., detects critical health conditions before they strike & for people who have critical health conditions then she guides them on a path to reach wellness. She is a Functional Medicine Specialist, Nutritionist, Motivational Speaker, and passionate to empower others to become their health advocate. She is the founder of Total Wellness Empowerment Monthly Membership, Total Wellness Empowerment Podcast, Look and Feel Great Method: 9 Steps to a Healthier You, and Raising Achievers & Givers: Positively Powerful Parent program. Recognized as a thought leader, Nancy shares her expertise on numerous media outlets, through her corporate wellness programs, her private practice and teaching practitioners for Deseret Biologicals, a leader in the field of Integrative Medicine, as she believes awareness will empower others to take charge of their health!
What's Functional Medicine and Who is it for?
Functional medicine is about discovering the roots of one's health issues as the testing provides benefecial insight into how one's body is functioning across many intertwined levels and functionality.

Partnering with a functional medicine specialist like Nancy involves spending time discussing your personal history including nutritional habits, past and current medical history, stress management techniques, sleep, emotional well-being and more. Anyone wanting to reach optimal health, discover how their body is functioning, follow a customize regime as opposed to one size fits all routine and understand why their body reacts in a certain manner.
See What Other People Say About Nancy
Nancy is an expert at what she does. She gave me the confidence to explore new ways of increasing my health and well-being. Since I started working with Nancy I feel more energetic and have lost weight. I have recommended her many times to my friends and colleagues.

- Brad ,

UBS Wealth Management
After suffering for four years with no answers from conventional doctors, I decided on functional medicine lab tests as my last option. The test results and your customized regime, guidance and support truly saved my life as I regained my health. Thank you for showing me the way.

- Christine ,

TIAA
With much trepidation we removed the staple foods of corn, milk, wheat, sugar from our diet and to our surprise, not only did our special needs son improve dramatically but the entire family benefitted as well. You need to teach parents worldwide!

- Julia,

Mom of three boys