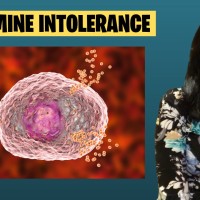 Do you feel off after eating avocados, chocolate, nuts, spinach, legumes? Bloated with an upset stomach, fatigued, or a killer headache but can't quite pinpoint what the culprit is? It may be your histamine release after eating certain foods. If you have histamine intolerance, then you will feel off when your body has trouble flushing histamine out. It's super hard to diagnose since it can disguise itself as a food intolerance or seasonal allergy. I always recommend keeping a food journal to determine if there's a pattern between what you eat and how you feel.
Histamine ingested via food is stored in the tissues of the body. And when released, it keeps your organs functioning and body working. Responsible for smoothing muscle tissue of the lungs, uterus, and dilating blood vessels, stimulating gastric acid in the stomach, and accelerating your heart rate. The problem starts when someone isn't able to metabolize the histamine compound.
Feeling bloated, headache, exhausted, anxious, and experiencing GI issues, then you may want to look to reduce or avoid the following foods: aged cheeses, avocados, chickpeas, lentils, strawberries, citrus fruits, chocolate, curry, cinnamon, cashews, walnuts, tomatoes, bananas, eggplant, spinach, yogurt, kefir, sauerkraut, processed meats, canned and pickled foods, smoked meats, vinegar, and alcoholic drinks, especially wine, champagne, and beer.
Listen to the podcast or watch the video to learn what natural protocol you can use to assist with histamine related issues. 
Disclaimer: You should always speak with your physician before taking any medication or nutritional, herbal or homeopathic supplement, or adopting any treatment for a health problem. If you have or suspect that you have a medical problem, promptly contact your physician. Never disregard professional medical advice or delay in seeking professional advice. Information and statements regarding dietary supplements have not been evaluated by the Food and Drug Administration and are not intended to diagnose, treat, cure, or prevent any disease.
Take Charge of your health by joining Total Wellness Monthly Membership today. 
Are you worth it? I think YOU are!
If you're not on my email list then click on NancyGuberti.com and request a FREE copy of my detox podcast.
Get Ready to LOOK & FEEL GREAT!
Become the Best You! LOOK GREAT & FEEL GREAT!
Lose weight, Gain energy & focus, Manage your mood, Be empowered!
Your health is worth it because YOU are!  You have too much to do to feel SICK & TIRED!
Tags: food allergy, histamine, histamine intolerance, histamine release, Nancy Guberti