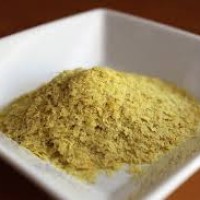 What's yellow, flaky, cheese-y, vegan and flavorful? It's nutritional yeast and it not only adds flavor but also provides an abundance of stress-reducing B vitamins.  It is a complete protein source containing 18 amino acids and free of dairy, wheat, gluten, soy, sugar and corn. Nutritional yeast will not exacerbate a Candida overgrowth as it is not the same as baking yeast, active dry yeast, compressed yeast or brewer's yeast. Quality nutritional yeast is derived from a single-cell organism called Saccharomyces Cerevisiae.
Additional Health Benefits:
convert food to energy
minimize depression
alleviate insomnia, fatigue, trembling
helps with PMS, mood changes and irritability
improves skin, nails and hair
enhances memory
high in Vitamin B12
low in fat and sodium
contains iron
great source of folic acid
Bragg's offers a premium nutritional yeast seasoning.
Here's how can you incorporate nutritional yeast into your food regime: add to rice or quinoa pasta dishes, add on bread or rice cakes, add to garbanzo beans, use in soup to thicken and make creamy, mix with olive oil and spices, add to scrambled eggs, on popped sorghum, mix with peas and carrots, use to make creamy mashed cauliflower, or try sprinkling on steamed kale.
Enjoy!
Tags: nutritional yeast