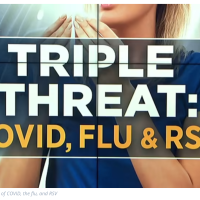 You woke up with a cough, sore throat, and runny nose. Is it COVID-19 or something else? As the cold weather leads to more time spent indoors, respiratory illnesses – including COVID, the flu, and RSV – are on the rise, with some referring to the convergence as a "tripledemic." Another factor in making this tripledemic brew at this time of year is the majority of Americans cannot gain significant exposure to sunshine. Absorbing Vitamin D is difficult from October until mid-April, depending on where one lives. Many people are Vitamin D deficient and will be more vulnerable to cold and flu season. Vitamin D is needed for T Cell activation, boosting the immune system to fight off foreign pathogens, and combat inflammation, chronic disease, colds, and flu. Vitamin D has an immune-modulating effect that produces approximately 300 antimicrobial peptides in your body to kill off bacteria, viruses, and fungi.
COVID-19, RSV, and the flu all present similar symptoms.
The symptoms of these three respiratory infections can look quite similar. Remember that most spread through contaminated surfaces and air droplets, so follow the same prevention measures against the cold and flu. Disinfect high-touch surfaces, cough or sneeze into your elbow instead of your hands, wash your hands frequently, keep sick children home and avoid contact with others who are sick. Stay home, rest, and stay hydrated. Stay diligent with your clean eating and immune-boosting protocol of supplements that are your wellness warriors.
Get familiar with the differences to look out for in these three illnesses this year.
Covid-19 Symptoms:
Fever or chills

Respiratory symptoms (cough, sore throat, runny nose)

Loss of taste and smell

Fatigue

Sore throat

Muscle or body aches

Headache
Flu Symptoms:
Sudden onset fever or chills

Respiratory symptoms (cough, sore throat, runny nose)

Muscle aches and pains

Headaches
RSV (
Respiratory syncytial virus)
Symptoms:
Runny nose

Coughing

Fever

Wheezing

Decrease in appetite
The RSV virus attacks the respiratory tract, causing the body to produce thick mucus that can be difficult to clear. Symptoms are typically mild and similar to the common cold, such as a runny nose, decreased appetite, and cough. Chronically ill or immunocompromised adults and those over 65 can be particularly susceptible to the virus.
What Can You Do To Reduce Risks of Illness?
Boosting your immune system is a proactive way to prep for cold and flu season and may help you stop the illness in its tracks and shorten the duration. Certain lifestyle factors like staying hydrated, getting quality sleep, staying committed to exercise, reducing toxins, eating clean food, and dealing with stress are critical factors in boosting your immune system. Look at your lifestyle factors incorporated in the 9 Steps to Healthy Living. You can learn more about that program.
Ensure you eat clean, balanced meals and hydrate with pure water and electrolytes. If your diet consists of processed foods and refined sugars, you give your body toxins. You will need to detoxify the toxins first to fight off illness. Sugar is like fertilizer for pathogens setting your immune system up for illness. Eight percent of your immune system resides in your gastrointestinal tract, so what you eat and drink is extremely important. If you are sick of getting sick, stop the perfect storm from brewing inside and take control of your health today. Chicken broth with raw garlic slices is one of my favorite go-to's. Next are some medicinal Yogi Teas and homemade golden milk. Stay super hydrated with pure spring water and homeopathic electrolyte drops. 
What's in your first aid kit for cold flu season? Check now, so you are prepared. I always stock up on herbals, vitamins, homeopathic remedies, and specialized supplements.
Add a combination of Vitamin A, C, and D, Zinc, Quercetin, Elderberry, Lysine, nasal spray, nano-silver, probiotics, and a high-potency proteolytic enzyme. The combination of a nutraceutical protocol supports and promotes healthy immune function. Many have antiviral activity and are helpful daily when cold and flu season arrives.
Always check with your medical practitioner when starting any new food or supplement.
Many of your friends and family don't know that natural remedies like this are available. It's time everyone takes charge of their health and becomes the best healthy version of themselves. Feel free to share this with them.
Email us with the words 'tripledemic list' if you want the list of supplements  to help with reducing the risk of these illnesses, and will send you them via Wellevate.
Listen to the Tripledemic Time: Flu, RSV and Covid podcast.
If you suffer from recurrent Covid infections or long Covid, then look to detox from the spike protein. Watch the presentation on Spike Protein Detox in the membership portal.
Make living healthy a priority today. Join the other members and get your questions answered. Are you a member yet? Join today.
Want to love what you do? Become a Certified Health Coach & Holistic Health Practitioner.
THIS SITE DOES NOT PROVIDE ANY MEDICAL ADVICE.
Information on this web site is provided for informational purposes only and is not intended as a substitute for the advice provided by your physician or any information contained on or in any training course or document. You should not use the information on this web site for diagnosing or treating a health problem or disease, or prescribing any medication or other treatment. You should always speak with your physician before starting any nutritional program, exercise program or start taking any medication or nutritional, herbal or homeopathic supplement, or adopting any treatment for a health problem. For any products or services recommended from this web site, you should read carefully all product packaging and instructions. If you have or suspect that you have a medical problem, promptly contact your physician. Never disregard professional medical advice or delay in seeking professional advice because of something you have read on this web site. Information provided on this web site and the use of any products by you should be cleared by your physician.
Tags: colf and flu season, Covid, Flu, Functional Medicine, immune boosting, long COVID, Nancy Guberti, nutritionist, RSV, supplements, Tripledemic, Wellness