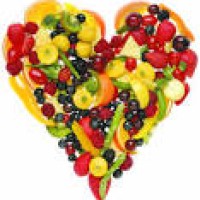 Enhancing your heart health with foods abundant in nutrients that help protect your cardiovascular system. Heart-healthy foods offer a powerhouse of phytonutrients preventing and repairing damage to cells and reducing inflammation. These are two crucial factors that contribute to heart disease. You can reduce your risk of cardiovascular diseases by incorporating low glycemic fruits and vegetables into your daily eating regime. 
Here's a list of heart healthy foods to help reduce your risk if heart disease and enhance your lifestyle.
Top Healthy Heart Foods:
Salmon

Flaxseed

Black Beans

Kidney Beans

Almonds

Oatmeal

Walnuts

Brown Rice

Blueberries

Spinach

Carrots

Broccoli

Sweet Potato

Red Bell Peppers

Asparagus

Oranges

Tomatoes

Acorn Squash

Cantaloupe

Papaya

Dark Chocolate

Tea
Try incorporating one food daily from the list above and make your heart happy and healthy.
Tags: anti-aging diet, health, heart, stress, weight loss