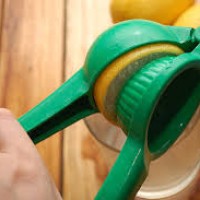 One of the simplest detox tips you can do on a daily basis is what I call the lemon water detox. We are surrounded by toxins in our air, environment, food, and water. Our detoxification organs have a busy job trying to remove these toxins from your body to keep you healthy. You can feel and see the signs of a toxic body ranging from feeling fatigued, dry skin, acne and mentally foggy are just a few symptoms. Why not assist your body in the detoxification process? Perhaps, if you knew there was an easy procedure for you to implement into your daily regimen then you would try it. Read on, as here it is…
First thing in the morning, squeeze an organic 1/2 lemon into lukewarm water and drink. Try not to eat for another 15-30 minutes. The 'lemon' water will help flush out the toxins from your liver, cleanse your intestines and skin. Once you get into the habit of drinking your lemon water in the morning each day, you may start to feel and see the benefits.
This is a really simple healthy habit to add to your daily regime. Ask yourself if it's worth it and then read over the benefits to get your answer.
Benefits of daily morning lemon water:
1. Starts your day off hydrated
2. Helps prevent urinary tract infection because the lemon changes the pH of your blood.
3. Combats bad breath caused by bacteria.
4. Kick off weight loss as the pectin in the lemon makes you feel full.
5. Boosts your immune system with the power of Vitamin C.
6. Great for your skin as the Vitamin C assists with collagen production.
7. Acts as a recovery drink from workouts and even a pre-workout drink.
8. Reduces phlegm buildup.
9. Since lemon also contain potassium, it helps nerve and brain function.
10. The liver can make more enzymes because of the lemon juice and supports cleansing.
Your health is worth it because You are worth the investment of your time and energy.
Here's to your future success.
This is your time. This is your year to reach your goals.
P.S. Have more wellness empowerment to share with you…so never miss a beat by staying in touch here.
Want to become your Best health advocate and take charge of your life?
Are you worth it? I think YOU are!
Want functional medicine & nutrition expertise at your fingertips? Then take Charge of your health by joining Total Wellness Monthly Membership today. 
Are you eating foods that promote cancer? Sign up for the free educational video series.
Join my private Facebook group and keep the wellness learning on-going.
Register for the life changing program at Look & Feel Great Method and take back your life today!
Lose weight, Gain energy & focus, Manage your mood, Be empowered!
Your health is worth it because YOU are!  You have too much to do to feel SICK & TIRED!
Tags: acne, anti-aging diet, anxiety, detox, Diet, Functional Medicine, Health Living, weight loss