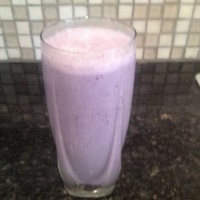 Starting the day with a healthy breakfast is key to reaching your optimal health goals. Many people ask what's the quickest breakfast ideas since they are too busy to sit down for a meal so early in the morning so they skip it all together. Your body is starving for nutrients so if you have time constraints in the mornings, running late or not really hungry, then here are some solutions:
high protein shake – can be made the night before or whip it up in a minute and take it on your way,
raw, high protein health food bar,
roll up some Applegate Farms roasted chicken or turkey slices and take it on the go,
chia pudding: just add cashew or coconut milk to chia seeds and refrigerate the night before so it's ready for you in the morning
skip the regular 'breakfast' choices if it's nothing but simple carbohydrates and zero nutrients.
My favorite protein shake contains 22 to 24 grams of protein, tasty in Vanilla or Plain (I add some organic stevia to sweeten). It's gluten, lactose, whey, casein, soy-free that provides the best balance of natural ingredients to support healthy body composition, and healthy immune system, promote gastrointestinal health, and optimize the body's detoxification process and response to inflammation.
Shake Recipe: 2 scoops of shake powder, 1/3 cup of organic frozen or fresh berries, 1 cup of unsweetened coconut, hemp, or unsweetened cashew milk or water with cup of coconut greek yogurt (optional). Blend all together.  Enjoy!
Tags: breakfast, Diet, performance shake, protein shake, weight loss