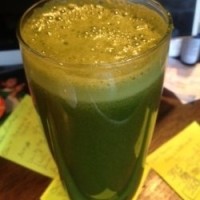 The health benefits you will receive from organic raw juicing is unbelievable. Your skin, energy levels, mitochondria and filtering organs will love you for it!
One of my favorite raw green juice is organic kale, carrots, lemon, and one apple. The kale provides a great dose of nutrients including calcium, the lemon is wonderful detoxifier and the apples/carrots sweeten the drink. Another one is the 'Crazy Horse' introduced at the Cape May Market one summer and the recipe is: green apple, kale, spinach, parsley, romaine lettuce, celery, cucumber, lime, ginger and spirulina. Their are endless recipes that could be juiced. Most important ratio is the fruit to vegetables as too much fruit will yield high sugar drink that can spike your blood sugar level and then you will crash unless you are combining the drink with a protein. A 90/10 ratio is one to strive for, with 90% being the vegetables and 10% consisting of the fruit. Raw juice is great for breakfast or afternoon pick- me-up.
Many complain about the cleanup after juicing. Two quick tips for easy cleanup is to use a disposable baggie liner on the pulp-container bucket and use a mushroom brush to clean the removable parts. I prefer to look at juicing as an activity that is benefecial for my health so worth the effort of preparation, juicing and cleanup.
Happy Juicing!
Here's to your future success. This is your time.
This is your year to reach your goals.
Checkout the juicing pins on my Pinterest page here: https://www.pinterest.com/nancyguberti/juicing/
P.S. Have more wellness empowerment to share with you…so never miss a beat by staying in touch here.
Don't Miss Out...
Enter your name and email address to be empowered to live a healthier lifestyle!

We value your privacy and would never spam you
Tags: detox, functional medicine testing, juicing, Morgellons, Nancy Guberti, weight loss