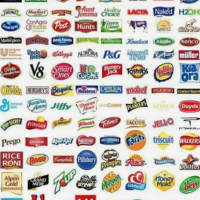 Here is another reason to eat clean food. Food can either be medicinal or toxic to us.
TBHQTBHQ, a toxic preservative found in Pop-Tarts, Rice Krispies Treats, and hundreds of other foods, may damage the immune system's defense against infection or cancer. It did not receive sufficient attention from public health agencies and is also linked to allergies. If the products contain glyphosate, which the majority does, then it's responsible for wiping out your beneficial bacteria and preventing your body from the ability to manufacture its serotonin. Michigan State University scientists have linked TBHQ to an altered immune response that possibly hinders flu vaccines.
In addition to TBHQ, most processed foods contain the Forever Chemical, PFAS, which migrates to food from packaging materials or processing equipment. Research shows that PFAS may influence antibody response to vaccinations and is linked to asthma concerns. A recent study found a link between high levels of PFAS in the blood and the severity of COVID.
Here's a list so you can avoid consuming harmful TBHQ:
McDonald's chicken nuggets and french fries

CHEEZ-IT Crackers (Kelloggs)

Butterfinger chocolate

Reese's Peanut butter cups

Nestle Crunch

Wheat Thins

Microwave popcorn

Pam spray

Aldi products

Keebler Club crackers

Kellogs Eggo frozen waffles & many other Kellog products

Taco bell beans and some taco shells

Teddy Grahams

Red Barron frozen pizza

Keebler Cookies

TastyKake

Little Debbie

Kellog's Pop-Tarts

Homestyle Peanut butter cookies

Some forms of soymilk

Different breads, cereals, and crackers could contain TBHQ

Crisco oil

Some pet foods

Many cosmetic products and baby products

Some hair dyes, lipsticks, and eyeshadows

Wrigley's gum

Little Debbies nutty bars and some M&M products

KFC beans and fried chicken
A little prep work with meal planning, shopping, and cooking can go a long way.
There should be enough time in a day to focus on what you are fueling your mind and body with. You are worth the time and effort because your health matters. 
Don't want to  miss the monthly live presentations then became a member & be empowered.
Take Charge of your health by joining Total Wellness Monthly Membership. 
Disclaimer: You should always speak with your physician before taking any medication or nutritional, herbal or homeopathic supplement, or adopting any treatment for a health problem. If you have or suspect that you have a medical problem, promptly contact your physician. Never disregard professional medical advice or delay in seeking professional advice. Information and statements regarding dietary supplements have not been evaluated by the Food and Drug Administration and are not intended to diagnose, treat, cure, or prevent any disease.
Tags: anxiety, depression, Functional Medicine, healthy food, immune system, Nancy Guberti, PFAS, TBHQ, total wellness