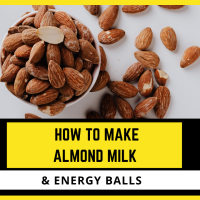 Do you regularly check the ingredients on food labels to make sure something has not changed? I recently read the 365 Organic Unsweetened Almond milk and noticed that the ingredients are a combination of domestic and imported ones. I did some digging and found out there's an active class action lawsuit against WF. Whole Foods Market is in the hot seat over the marketing of its vanilla almond milk creamer in a new class-action lawsuit accusing the grocery store of tricking consumers into thinking its creamer is flavored with real vanilla. Interesting, so I decided to make my own organic almond milk, and the taste is next level and no comparison.
When you make it yourself, you have the added benefit of the almond 'pulp,' as I like to call it, and that's the main ingredient in the 'almond energy balls.' These energy snacks are mighty powerful and great pre-post workouts and a strategy for successful weight loss/maintenance.
I added the video to my YouTube channel and IG page. Learn how to make homemade almond milk with two ingredients and energy balls using 3 to 4 ingredients. This recipe is easy and quick.
Let me know if you try the almond milk recipe and almond energy ball recipe.
Just another reason to take charge of your health with what you buy and consume.
Ready to take Charge of your health today? Learn the Importance of Dietary Changes During the Coronavirus Pandemic: How to Upgrade Your Immune Response. An exploration of dietary habits and COVID-related death might unravel associations between these two variables. Indeed, while both nutritional excess and deficiency are associated with immunodeficiency, adequate nutrition leading to an optimally functioning immune system may be associated with better outcomes with regards to preventing infection and complications of COVID, as well as developing a better immune response to other pathogenic viruses and microorganisms. join the membership and become your best health advocate to reaching total wellness of mind and body.
Join Total Wellness Monthly Membership and get started 
Are you eating foods that promote cancer? Sign up for the free educational video series.
Defy the aging process by nourishing your body with the targeted remedies.
Tags: almond energy balls, almond milk recipe, Functional Medicine, Nancy Guberti, nutrition, Wellness, Whole Foods Class action Lawsuit