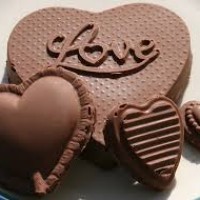 The most popular holiday this month is Valentine's Day and it usually involves love, flowers, chocolate and sweets. Heart shaped candies, cakes, cookies and cupcakes all covered with artificial dyes and loads of sugar. How can we show or express our love in a healthy manner with fun loving sweet treats?
You can dip organic strawberries into melted chocolate chips by Enjoy Life (www.enjoylifefoods.com). You can bake and use these chocolate chips to create chocolate icing. If you want to make your own chocolate heart shaped candy then all you need to do is purchase the mold and melt the Enjoy Life chocolate chips, pour into the molds and then freeze them so they harden into the shape you want. Once frozen then take them out and gently push them out of the mold into a container or plate. That's all it takes. I heat up organic olive oil and then remove it from the stovetop and stir in the chocolate until it is all smooth and creamy to pour into the candy mold. You can find the candy molds on Amazon.
If you want to purchase treats online then there is a great company that sells kid friendly valentine candy free from the top eight food allergens (always check ingredient list just in case they changed a recipe), the website is www.amandasown.com
Another favorite is Gnosis Chocolate www.gnosischocolate.com and their products are decadent while being dairy-gluten-soy-free and vegan.
There is a great Natural Candy Store www.naturalcandystore.com that offers gluten-free, vegan, GMO-free, dye-free and organic products. They do not use any artificial colors or dyes, no artificial flavors, sweeteners, preservatives and no hydrogenated oils and everything is made in the USA.
You can enjoy and celebrate Valentine's Day with sweet healthier versions of treats.
Tags: casein free, Enjoy Life, gluten free, Valentine candy