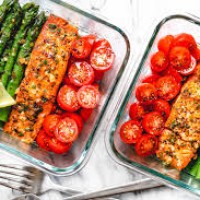 Making healthier, mindful meal choices by planning contributes to total wellness. A 2017 study found that those who planned their meals adhered more to nutritional guidelines and were less likely to be overweight. Meal planning can promote nutrient-dense, balanced healthy meals and discourage less nutritious fast food options. Cooking healthy also helps you consume less sodium, salt, saturated fat, and sugar.
One of the things I hear from others is that they come home and have no clue what to cook, and that's just stressful, zapping their mental energy. After a long day, many feel burnout leads to decision fatigue making unhealthy food choices.
Choose your easiest day of the week to plan and prep meals ahead of time, and then on your most challenging days, you have what you need at your fingertips. Don't wait until the day of to decide what you're going to eat.
Meal prepping and planning may sound daunting at first, but it doesn't have to be. By shifting your mindset to it and planning out your meals, you can save significant time, stress, and calories. It's incredible how much time is saved and how much healthier you will become with a bit of practice.
Watch how you can do meal planning and make it fun and healthy!
Remember, your total wellness of mind and body is worth it because YOU are worth it.
Make your health a priority today to reach total wellness of mind and body.
How can you do this? You need a strategy and accountability. That's what you get when you became a member of the Total Wellness Empowerment membership.
Get started here.
Tags: dairy free, Functional Medicine, gluten free, Healthy Eating, healthy living, meal planning, meal prep, mental health, Nancy Guberti, total wellness