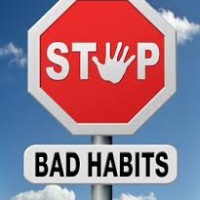 Years go by fast and in no time, your bad habits damage your body and mind. Think about any bad habits that you may be holding on to.
Whether it is skipping breakfast, eating too much, drinking too little water, spending hours after hours watching TV or surfing the internet, work on taking charge of your life by removing your bad habits that are not serving you. You want to replace these bad habits with positive ones that enrich your lifestyle as opposed to damaging it. Quitting these behaviors ow will avoid feeling its negative effects years from now.
If you are trying to stop snacking throughout the day then think it over. Snacking when you're not hungry can cause skipping meals and become lacking nutrients and minerals throughout the day.
Learning to listen to these cues from your body on when to eat and when to stop is vital to reaching and maintain a healthy weight … and a happy relationship with food.
Listen to your body and evaluate how any bad habit is blocking you from reaching your optimal health goals.
What can you do?
Identify any bad habits
Implement Action
Move Forward Closer to Your Health Goal
First, you want to identify any bad habits and make a list. Next, create an actionable plan to infuse positive tasks to replace the negative habits. Without action then the knowledge of identifying your bad habits will be in vain. Last but not least, keep reminding yourself that you are moving closer to your health goals.
Congratulate yourself on your strengths! You can draw on these as you consider making changes in other areas. To begin, look at your areas for improvement and pick one you would like to explore. 
Your health is worth it because You are worth the investment of your time and energy.
Here's to your future success.
This is your time. This is your year to reach your goals.
P.S. Have more wellness empowerment to share with you…so never miss a beat by staying in touch here.
Want to become your Best health advocate and take charge of your life?
Are you worth it? I think YOU are!
Want functional medicine & nutrition expertise at your fingertips? Then take Charge of your health by joining Total Wellness Monthly Membership today. 
Are you eating foods that promote cancer? Sign up for the free educational video series.
Join my private Facebook group and keep the wellness learning on-going.
Register for the life changing program at Look & Feel Great Method and take back your life today!
Lose weight, Gain energy & focus, Manage your mood, Be empowered!
Your health is worth it because YOU are!  You have too much to do to feel SICK & TIRED!
Tags: anti-aging diet, anxiety, goals, Health Living, Nancy Guberti, weight loss, Wellness