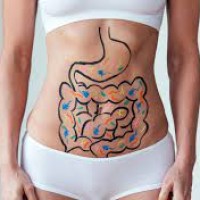 Nine Tips to Better Digestion
Approximately 75 percent of Americans are living with digestive symptoms like diarrhea, gas, bloating and abdominal pain.
The gut is one of the core disease-fighting systems of the human body. First, the acid and enzymes in the stomach work to sterilize our food and, protect the body from illness and infection. Our digestive tract is an important source of immune function in the body.
Another very important aspect of improving digestion is to improve your mental health since there is scientific research explaining the gut brain connection. A troubled intestine sends signals to the brain, just like a troubled brain sends signals to the gut. Therefore, a person's gut or intestinal distress can be trigger anxiety, stress, and/or depression. It is because the brain and the gut (gastrointestinal system) are intimately connected.
Here's to you incorporating these nine tips and improve your digestion while reaching total wellness of mind and body.
Watch the video to learn the 9 Tips to Improve Digestion. Listen to the Total Wellness Empowerment Podcast.
Always remember that your health is worth the planning, mindfulness, time, and effort to live a healthier lifestyle…all because YOU are worth it!
THE Look & Feel Great Method is a 9-week step-by-step mind + body wellness and weight loss course for women and men who want to stop beating themselves up and are ready to love their bodies, enjoy their food, work own achieving total wellness of mind and body. and lose weight in a kind, sustainable way. ➡️ https://nancyguberti.com/9steps/
Thanks for watching! Make sure to subscribe for more videos: https://www.youtube.com/nancyguberti
MORE HEALTH + WEIGHT LOSS TIPS
Boost Your Metabolism for Weight Loss: https://youtu.be/KvnSmI68IYk
Sugar Detox: https://youtu.be/9NdgtVcQxmU
How To Stay Motivated with Your Goals and Mindset: https://youtu.be/nyULV5HgxIM
5 Mental Health Tips for Stress and Anxiety: https://youtu.be/0mNqu8D3pHM
Quick Paleo Chocolate Pudding Recipe: https://youtu.be/olIqfgSeZEQ
Glyphosate Impacts Mental Health: https://youtu.be/3OUhwfyfSqw
Healthy Living: https://youtu.be/i8WhkWjFmn4
Thanks for watching! I hope you have a Nutritious & Delicious day 😉
WEBSITE: https://nancyguberti.com
Look & Feel Great Method: 9 Steps Program: https://nancyguberti.com/9steps/
WELLNESS Membership: http://totalwellnessempowerment.com/membership/
INSTAGRAM: https://www.instagram.com/nancyguberti/
FACEBOOK: https://www.facebook.com/NancyGubertiNG/
PINTEREST: https://www.pinterest.com/nancyguberti/
PODCAST: https://nancyguberti.com/podcast/
Beat Anxiety Guide:: https://nancyguberti.com/anxiety/
Functional medicine lab tests: https://nancyguberti.com/services/
Tags: bloating, digestion, glyphosate, indigestion, mental health, Nancy Guberti, natural remedies for indigestion, total wellness