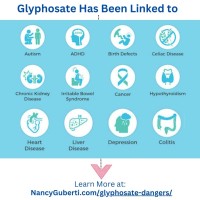 A poison is silently contaminating our soil, food & water. It's destroying our gut microbiome hormones & is also linked to chronic diseases like cancer. It's called glyphosate.
Usage of the herbicide glyphosate on crops in the United States has increased exponentially over the past two decades, along with the exponential increase in autoimmune diseases, including autism, multiple sclerosis, inflammatory bowel disease, type 1 diabetes, celiac disease, neuromyelitis optica, and many others. Despite the International Agency for Research on Cancer (IARC) 2015 report stating that glyphosate is a probable human carcinogen, the U.S. Environmental Protection Agency (EPA) has held the position that glyphosate poses no unreasonable risk to the environment or human health. Scientific research suggests potential adverse effects on our microbiome, nutrient levels, and cellular health from glyphosate exposure. Beneficial microbiome bacteria such as lactobacillus, bifidobacteria, and enterococcus species decrease with glyphosate, and this promotes an increase in clostridium and salmonella species, leading to dysbiosis. A balanced microbiome is vital for optimal digestion and immune functioning. Prolonged exposure to glyphosate (90 days) at the U.S. allowable daily intake level significantly shifted gut microbiome composition in humans. When our microbiome are decimated by glyphosate, we can become deficient in B nutrients and not produce serotonin properly. It is leading to serious health issues like depression and chronic disease. 
Glyphosate induces neurotoxicity in the central nervous system. It generates biochemical, neurophysiological, and developmental cerebral deviations, like neurotransmitter changes, oxidative stress, excitotoxicity, and deformities. Animal studies have shown that glyphosate causes male reproductive dysfunction, including impaired testis structure, reduced sperm motility & malformation. Glyphosate has been shown to damage the liver and kidneys over three months. It can cause an increase in lesions indicative of fatty liver disease and tissue death.
Avoiding glyphosate as much as possible in food is essential to decrease exposure. Are you exposed to glyphosate? Glyphosate is a herbicide that protects crops from weeds and is rapidly absorbed into the ground, contaminating the soil and the groundwater. It accumulates in the roots of the plants, and genetically modified plants are more resistant, so higher amounts are sprayed on them. 
Corn, soy, chickpeas, wheat, and oat crops are heavily treated with glyphosate. It's not just in crops; glyphosate is in processed food, beverages, and candy. The United States Department of Agriculture approved genetically engineered sugar beets, and the Environmental Protection Agency increased the maximum allowable glyphosate residues on those sugar beet roots (from which sugar is extracted) by a staggering 5,000%! Aren't these agencies supposed to be protecting our health? Do you understand now why you must become your best health advocate, gain the knowledge, get proper testing, and take action?
Complete avoidance is unrealistic, considering its prevalence in our soil and water and the residual amounts found even in organic food. Choose organic whenever possible since USDA Certified Organic foods cannot be grown with glyphosate. Unfortunately, organic foods can become contaminated since glyphosate residues are found in air, water, and soil. Your groundwater and, therefore, your drinking water may contain glyphosate. This prevalence means we can be exposed to this toxin in many unexpected ways. The states that use the most significant amounts of glyphosate are Illinois, Iowa, Nebraska, Kansas, North Dakota, Minnesota, South Dakota, Texas, Indiana, and Missouri. You want to get your tap water tested, especially in those states. In the U.S., over 80% of the population has traces of glyphosate in their body. The increasing usage of glyphosate is concerning because it's linked to serious health issues. It's linked to reproductive dysfunction, neurotoxicity, liver damage, microbiome dysbiosis & cancer. The WHO considers it a probable human carcinogen. 
The United States Environmental Protection Agency (EPA) released estimates of what percent of crops in the United States are treated with glyphosate. The U.S. allows over 5x more glyphosate in the food supply than Europe.
The scary results included:
100% of soybeans

90% of oranges

85% of almonds

85% of figs

85% of grapefruits

85% of pistachios
The EPA provided estimates for 70 different crops; 0 crops were given a 0% estimate.
Anresco Laboratories tested various snack and cereal products in 2016. They found glyphosate in products such as Lay's Kettle Cooked Original Potato Chips, corn-based Doritos Cool Ranch, Wheaties, oat-based Cheerios, Corn Flakes, and Whole Grain Cheez-Its. It's even in "100% Natural" Lipton tea!
Did you know that in France, the Netherlands, and Belgium, glyphosate is banned for household use? Germany, the home of chemicals giant Bayer, which bought Monsanto (they make glyphosate) in 2018, has banned it in public spaces and plans a total ban at the end of this year.
It is beneficial to know how much glyphosate your body is exposed to and if you can detoxify this toxin. Running an OAT and Glyphosate test panel will provide valuable insight into your unique biomedical functioning and an essential tool on your wellness journey to optimal mind and body health.
Gaining insight before a diagnosis is the most proactive health insurance you can use to treat yourself.
Several things are needed to help support the body in detoxing glyphosate :
Binders such as humic or fulvic acid and chlorella may bind to glyphosate in the GI tract and help remove it. 

Nutrients can help support the detoxification system, particularly the liver, to help the body better process the chemical. 

Because glyphosate causes oxidative stress, antioxidants such as vitamin C may be helpful in neutralizing free radicals. 
If you have been tested and have glyphosate levels that need to be reduced, then here's a protocol to explore with your medical doctor. You need approval from your doctor before starting any new supplement protocol.
You must become your best health advocate and be empowered with the knowledge to reach optimal health. No one can do this for you except yourself. Making your health your number one priority is crucial to achieving total wellness of mind and body. If not now, then when? It is better to be proactive than reactive to disease. Unfortunately, too many are not feeling their best, settling on just getting by. Gain insight and take charge of your health by finding out how your body functions and following your healthy lifestyle factors to get your body in balance and achieve total wellness.
You are here for a reason, and to accomplish all you want to do and experience in life, you must feel your best!
Order your glyphosate and organic acid urine testing so you discover your glyphosate levels, gut health, nutrient deficiencies (checks Vitamin C, B, glutathione, CoQ10, Biotin, and more), your neurotransmitter levels, as well as toxic exposure, detoxification pathways, oxalates, and Krebs cycle.
Tags: Functional Medicine, functional medicine nutritionist, functional medicine testing, glyphosate, glyphosate test, Great Plains Lab, mental health, mosaic diagnostic labs, Nancy Guberti, organic acid test, Wellness