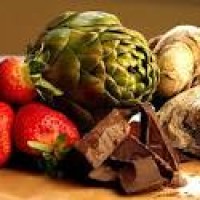 Some foods offer an abundance of vitamins, minerals, fiber, antioxidants and more. Did you know that some foods are considered sexy foods because they claim to have an aphrodisiac component to them. In the Middles Ages, there actually were foods that were forbidden to consume because they had these qualities.
Here's a list of delicious love potion, aphrodisiac-filled foods:
Artichokes: Catherine de Medici

 

(Queen of France) fed artichokes to King Henry II and broke gender barriers by consuming them herself. Artichokes are good for your liver and libido, while being high in fiber, and calcium.

Asparagus were fed to French bridegrooms to fortify them as they are high in folate and helps with many male dysfunctions;)

Avocados considered aphrodisiac by Aztecs and Mayans…holy guacamole!

Basil as the scent supposedly drives men wild. Wonder if there's a basil perfume? Basil is known for promoting fertility.

Carrots were a sexual stimulant for the Greeks and Romans loaded with beta-carotene, antioxidants, minerals and aided in seduction when cooked.

Chocolate contains both sedative and stimulative qualities relaxing and lowering inhibitions while increasing desire. Perhaps, the increase of serotonin causes a balance in one's neurotransmitters and this puts one at ease.

Oysters slippery and sensual! Did you know that they can change their sex from male to female and back; so they understand both feminine and masculine experience of love!

Strawberries are heart shaped and the symbol of Venus, the Roman goddess of LOVE. Perhaps, this is why chocolate covered strawberries are a staple for Valentin's Day…double trouble.
Happy Valentine's Day
May you feel loved and healthy!