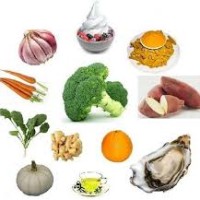 A good diet contains a variety of foods rich in vitamins A, B complex, C and E; foods with high mineral content, particularly zinc, selenium, calcium and magnesium; foods rich in omega-3 and omega-6 fatty acids such as oily fish, seeds and nuts; adequate protein from lean grass-finished meats; fiber from gluten-free, corn-free grains, fruit and vegetables.
Vitamin C found in many fruits and vegetables is needed by all of the immune system's cells to carry out their functions. Vitamin A found in oily fish and plant foods is essential for the thymus gland, an immune system organ necessary for the proper maturation of immune system cells. B vitamins and calcium are needed for white blood cells known as phagocytes and for proper skeletal muscle and nervous system function. Vitamin E, zinc, and selenium are powerful antioxidants needed to reduce oxidative stress and for antibody production. All immune system cells require protein for continued production of cells and protein is also needed for the production of amino acids and antibodies.
The top nine immune system boosters that supply the highest levels of these nutrients are (organic is preferable for all foods to reduce toxic buildup):
organic beets

organic medicinal shiitake mushrooms

organic avocado

organic kale

organic blueberry

brazil nuts

organic onions

organic green tea

organic garlic
Other immune boosting foods that contain an abundance of nutrients with antioxidant properties, immune restoring or anti-inflammatory properties are: sweet potatoes, carrots, grapefruit, yams, red bell peppers, tomatoes, rhubarb, pumpkin, chili peppers, cruciferous vegetables, watercress, nettle, spinach, endive, artichokes, arugula, kiwi, pineapple, papayas, mango, guava, cantaloupe, passion fruits, citrus fruits, grapes, berries, rose-hips, hazelnuts, apples, walnuts, cashews, almonds, pistachio nuts, sunflower and pumpkin seeds, sesame seed, quinoa, green beans, lentils, snow peas, turkey, chicken, peppermint, chamomile, rosemary, ginger and turmeric.
Whenever possible choose organic over conventional for all foods to reduce toxic buildup.
Your health is worth it because You are worth the investment of your time and energy.
If you have not listened to my free Detox podcast then sign up for it today and be empowered to get rid of toxic buildup.
P.S. Have more wellness empowerment to share with you…so never miss a beat by staying in touch here.
Don't Miss Out...
Enter your name and email address to be empowered to live a healthier lifestyle!

We value your privacy and would never spam you
Tags: immune system