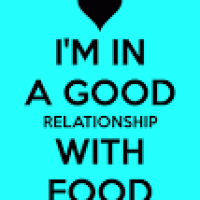 At times we are in control of our food choices and choose healthy options and then the healthy love affair turns into a tumultuous one. This can develop into a vicious cycle and affect our health, waistline, confidence, mood, self-image and motivation. We cannot live without food so mastering how to live peacefully in a healthy relationship with food is crucial to one's success. 
The first step is understanding the difference between physical and emotional hunger, and the triggers and reasons behind your food cravings. Awareness is the most important factor to help you take action based on this profound awareness. We must be 'present' in our decision making. How do you perceive your food and eating patterns and are they in alignment with your health goals. Do you have a healthy body image? Is all of this affecting your self confidence?
To bring awareness to the next level, you can start writing down your feelings towards food, your choices and identify if you are physically or emotionally hungry.  Next we need to reprogram our thought patterns toward our health goals and lifestyle choices. Begin to alter your eating habits working towards eating for physical reasons only not emotional ones.
Three Step Process to developing a healthy relationship with food:
1. Believe in yourself. Remove feelings of fear, doubt and lack. Infuse the mantra that Your Health is Worth it because YOU are Worth it!
2. Keep track of your eating regime and pattern, Identify if you are eating for physical or emotional reasons.
3. Ask yourself the simple question before eating or drinking anything, "What is this food item going to do for me? Will it nourish my skin, my hair, provide energy and mental clarity?" OR "Will it go to all my problem spots, make me tired and sluggish, negatively affect my skin, hair, nails, Give me stomach, headaches, feelings bloated, gassy, etc."   What will you choose for your body and Why?
Implement these three steps and you will gain self-awareness and be able to positively change your eating habits and regime.
Here's to your future success. This is your time.
This is your year to reach your goals.
P.S. Have more wellness empowerment to share with you…so never miss a beat by staying in touch here.
Want to become your Best health advocate and take charge of your life?
Are you worth it? I think YOU are!
Want functional medicine & nutrition expertise at your fingertips? Then take Charge of your health by joining Total Wellness Monthly Membership today. 
Are you eating foods that promote cancer? Sign up for the free educational video series.
Join my private Facebook group and keep the wellness learning on-going.
Register for the life changing program at Look & Feel Great Method and take back your life today!
Lose weight, Gain energy & focus, Manage your mood, Be empowered!
Your health is worth it because YOU are!  You have too much to do to feel SICK & TIRED!
Tags: anti-aging diet, detox, Health Living, Nancy Guberti, New Year's Resolutions, nutrition, Wellness