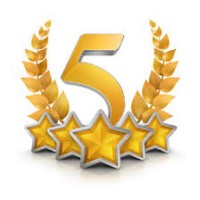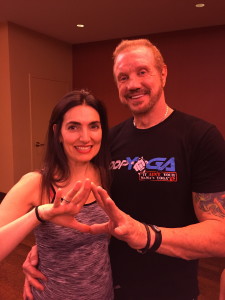 This past Friday night, I had the privilege to share a great night with my 18 year old son, Michael at a DDP Yoga Workshop! I'm pretty open to being energized with like-minded individuals all on a health quest but this night was different as I was going to meet Diamond Dallas in person after speaking with him years ago. We happened to be on the same radio show and I had no idea who DDP was but he was interested in learning more about grass finished meats and gluten/casein health issues, so I was happy to discuss with him. He connected me to Stacey Morris so I could be a guest on his Wednesday night radio show. Now, I just enjoy and look forward to empower his members on a quarterly basis and connecting with them on Facebook and Twitter. I was honored to write a Foreword to Clean Comfort, Stacey Morris' book and highly encourage and recommend everyone to grab a copy of her words of wisdom, motivation and yumminess!
I mentioned that I was attending the workshop to a business friend and he wanted a review from me. Dear God, please let DDP be as authentic as I believe he is! If Stacey Morris is any gauge then it's going to be golden. If the FB and Twitter DDP connections provide insight into the real DDP then 'everything's going to be alright'. Who knows really? I've been around big personalties and celebrities throughout my life with my brother being the road manager for Aerosmith and with my career in brokerage working at Goldman Sachs with the likes of the Henry Paulson, Jon Corzine, and Robert Rubin.
Okay, back to the workshop, when Michael and I arrived at the NYC DDP Yoga, you could feel the warmth and inspiration from the venue to the camaraderie of the attendees, DDP Yoga certified instructors, Brenda Nair and of course, Diamond Dallas.
In a word, it was absolutely AMAZING!!! Diamond Dallas Page is so down to earth, so real, kind, motivating, inspiring, entertaining, challenging and more. He's like the Tony Robbins of exercise, truly a class act. This 'Inspiration Meets Perspiration' workshop lived up to the title and then some. I've never attended anything like this before. After the inspirational talk, we get into breathing exercises—wow, someone actually teaching breathing—good for him.  He explains the science behind the moves and the rehab benefit. Next, his dynamic resistance instruction then onto correct alignment and finally the workout. I'm thinking, "okay, it's some type of yoga and I've taken yoga classes for over 12 years now so let's see." All I can say is that this was the Best yoga/exercise class that I've attended.
DDP Yoga workout is brilliantly crafted to exercise, restore and challenge the body and mind all at once. I'm totally sold and hooked on the entire concept. My body felt amazing afterwards and so did my mindset. I can see why the DDP Yoga tribe is a strong and tight community lead by a brilliantly motivational leader.
BTW, thanks DDP, I enjoyed the shout out at the beginning of the workout and the grass fed story 😉
In my family, we are all about elevating the lives of others so anyone who is elevating others is someone I will promote and admire.
Bravo to Diamond Dallas, DDP Yoga and his crew.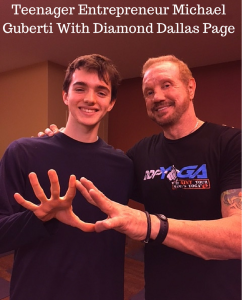 Tags: anti-aging diet, Functional Medicine, goals, Nancy Guberti, weight loss