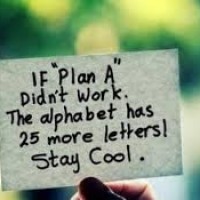 Right from the start of setting your health goals remind yourself that no matter what, there will be obstacles you'll have to face. Write down the possible obstacles and shiny objects that can get in your way. Next, write down some coping strategies to get back on track. We all have days where work, weather and life get in the way of our normal routines and goals. So, you didn't have time to do that workout this morning? Instead of getting thrown off track, think and plan where you can take a walk at lunch and do 20 minutes on the elliptical or treadmill tonight instead. Most important is to be flexible when life throws you a curve ball in your plan. Be open to changing your routine and forgive yourself when life gets in the way.
What's the other result of not being flexible? Well, that can range from negative thoughts creeping into your positive mindset, staying off the track of reaching your health goals, just giving up on them forever, getting distracted by other things and not recommitting.
Do not fall into the trap as 'life happens' to derail you from reaching your health goals.
Instead you need to take the helm of your health. Remember, it is perfectly fine to have to change up your schedule as opposed to giving up.
Your health is worth it because You are worth the investment of your time and energy.
Here's to your future success. 
This is your time. This is your year to reach your goals.
P.S. Have more wellness empowerment to share with you…so never miss a beat by staying in touch here.
Don't Miss Out...
Enter your name and email address to be empowered to live a healthier lifestyle!

We value your privacy and would never spam you
Tags: anti-aging diet, anxiety, detox, Functional Medicine, goals, Great Plains Lab, Health Coach, Health Living, homeopathic remedy, Nancy Guberti, nutrition, toxicity, weight loss, wrinkles