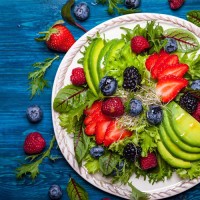 Eating in a healthy manner is crucial to one's longterm health goals. For many, eating healthy is not always easy and consequently, eating balanced meals may not be on option. Many complain that it is just too confusing or hard to know what to focus on when it comes to eating healthy and it would make life easier to have some basic rules of the health road to follow when deciding on what exactly to eat. We are constantly bombarded with new health claims and a list of diet names: Raw, Paleo, Atkins, High-Fat, Low-Fat, Mediterranean, Vegetarian, etc. What's best for your immune system, memory, cognition, mood, happiness and longevity? Let's wrap it up in 9 simple steps.
Here are 9 basic rules if you want to eat healthy:
Avoid sugar. Yes, it requires willpower to reduce and avoid your daily sugar intake. Sugar has been linked to many diseases, it affects your insulin production, feeds cancer cells, attributes to weight gain, addictive eating and provides false sense of energy.

Avoid trans-saturated fats. Trans-saturated fats has been shown to raise your bad cholesterol levels aka LDL, lower your good cholesterol levels aka HDL, cause heart disease, stroke, type 2 diabetes and increase the risk of Alzheimer's, cancer, and infertility. The most common sources of trans fats: fast foods, fried foods, conventional snack foods like chips, cookies, doughnuts and pastries.

Avoid simple carbohydrate load as it will give you a false spike of energy then let you down. Choose nutrient rich foods instead.

Avoid the top inflammatory-allergen foods: gluten, wheat, dairy, corn, soy.

Avoid eating when stressed as the digestive process slows down and you may fall into an emotional eating binge as opposed to eating for nourishment.

Avoid deciding to eat when you are starving; instead plan out your meal timing.

Drink pure water as your body needs it and it's the best source of hydration.

Eat lean protein to keep your energy levels and blood sugar levels at optimal health.

Reinvent your vegetable intake and make it exciting and new. Thinking out of the box can turn a boring vegetable into a tasty enjoyable and desirable meal. Grill, bake, pan-fry your veggies rubbing olive oil (optional) and same organic spices on the vegetable turns the most boring vegetable into a tantalizing treat.
Start incorporating one basic goal at a time on your journey to reach your optimal health goals.
Your health is worth it because You are worth the investment of your time and energy.
Here's to your future success.
This is your time. This is your year to reach your goals.
P.S. Have more wellness empowerment to share with you…so never miss a beat by staying in touch here.
Take Charge of your health by joining Total Wellness Monthly Membership today. This is a proven system that keeps you moving towards your optimal health goals with weekly videos and action items. Love for you to join the Community & gain access to the empowering information to positively impact your life. 
Checkout my biz FB page posts and look at the absolutely delicious and nutritious foods that I consume and always take a picture before to share with you on my Instagram page. Stay informed and make smart consumer purchases that will help you reach optimal health.
Are you worth it? I think YOU are!
Don't Miss Out...
Enter your name and email address to be empowered to live a healthier lifestyle!

We value your privacy and would never spam you
Tags: 9 Health Rules, Healthy Eating