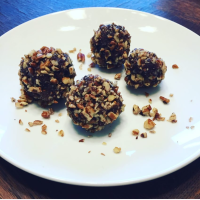 Need a pick-me-up? Want something sweet and powerful, a superfood?
Here it is…the 4 ingredient chocolate pecan or cashew or almond energy ball!
Ingredients
1/2 cup cashews or pecans or almonds
1 cup medjool dates, pitted
2 Tablespoons cocoa powder
2 teaspoons vanilla coconut milk (carton, not canned)
Instructions
Add cashews to food processor and pulse quickly.
Add dates to the food processor and blend until they become smooth and stick together in a large mass.
Add cocoa powder to the date paste/nut mix and pulse. Add coconut milk and continue mixing.
Roll the cocoa-date-nut mixture into small balls about 1-inch in diameter. Enjoy immediately or store in the refrigerator for up to 5 days.
How do you feel today? Want to become your Best health advocate and take charge of your life?
Are you worth it? I think YOU are!
Want functional medicine & nutrition expertise at your fingertips? Then take Charge of your health by joining Total Wellness Monthly Membership today. 
Are you eating foods that promote cancer? Sign up for the free educational video series.
Join my private Facebook group and keep the wellness learning on-going.
Register for the life changing program at Look & Feel Great Method and take back your life today!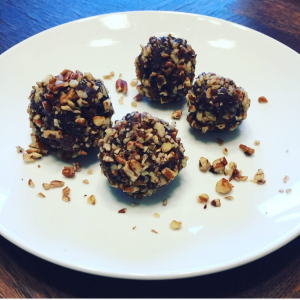 Need more food ideas? Visit my Instagram page.
Tags: chocolate, cleanfood, energy balls, raw, superfoods