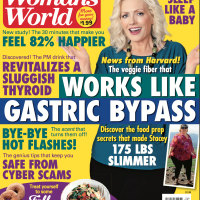 If you do not know the lovely Stacey Morris then you really need to! She's an inspiration and she transformed her life because she made her health and happiness her #1 priority.  She took charge and the rest in history.
Listen to our podcast episode on iTunes or watch the video on my FB biz page. You will be motivated to make healthier changes into your life to reach your optimal health goals.
Stacey's books are available on Amazon. Stacey Morris spent most of her adult years in what she describes as a 'potato chip coma,' using food as both an escape and coping mechanism. It may have brought temporary relief, but binge-eating took a toll on her well-being. In 2009 Stacey reached an all-time-high weight of 345 pounds. It was the wake-up call that motivated her to turn the ship around. A lifelong dieter since the age of 9, Stacey knew that this time, a less rigid approach would be required. Instead, she embarked on a path that included listening to her body's cues for hunger, consulting with a nutritionist, and agreeing to face stress and other unpleasantness rather than engaging in marathon eating sessions. She also took up yoga as a middle ground between a sedentary lifestyle and joining a gym.
Today, she travels the country sharing the story of her transformation that had her dropping 180 pounds without dieting or gimmicks. "There's no one answer to reaching health and balance; it's a mosaic of solutions," explained Stacey. "I literally could have a Ph.D in my knowledge of what doesn't work I share with audiences things like what food choices are best for energy and weight loss, why a little hunger is good for the body and soul, as well as the importance of being kind to yourself."
When she realized her new way of living was no passing fancy, Stacey decided to write a "Clean Comfort," a cookbook-memoir that outlines both her struggles with food and low self-esteem and her triumphs over the demons. She has written two more cookbooks on clean eating and espouses a gluten-free, cow-dairy-free, and low-sugar lifestyle. Her latest book, released in August of 2018, is titled "The Untended Soul: The Path to Light and a Lighter Way of Being." Stacey's fourth book is a collection of essays that address the emotional side of the overeating and weight issue. She knew that without healing and self-esteem from within, the victory would be a hollow one. All four books are available on her website and through Amazon. She's also a health coach, DDPYOGA instructor, and a winter resident of Palm Beach County.
For more information about the author, visit www.StaceyMorris.com