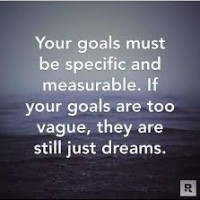 "The best time to plant a tree was 20 years ago. The second best time is now."  Chinese Proverb
Are you thinking about an important health goal you had or still want to achieve, and wishing you had started on it months ago – so you would have already achieved it?
The best way to avoid this punishing instance is to … Start Now. Let's get you empowered not disempowered!
Seriously, what are you waiting for? Think about how amazing it will feel once you've achieved the goal.
Today is all about Setting a Goal that is Measurable.
General goals like 'I'm going to lose weight' or 'I'm going to workout more' are too vague. Instead set goals like, 'I'm going to do at least 150 minutes of yoga per week' or 'I'm going to lose 20 pounds over the next four months', and make sure there are interim milestones to gauge your progress along the way. You need to make daily and weekly goals because a single goal set too far in the future is harder to achieve and stay motivated focused on the final prize. Most of us are more likely to succeed when we get positive reinforcement during the process of achieving a larger goal.
Today is your day to set the measurable goals.
Your health is worth it because You are worth the investment of your time and energy.
Here's to your future success.
Don't Miss Out...
Enter your name and email address to be empowered to live a healthier lifestyle!

We value your privacy and would never spam you
Tags: detox, Diet, goals, stress, weight loss, workout, yoga