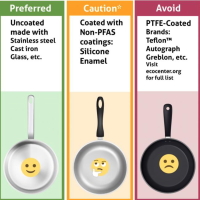 Did you know nonstick pans often do not state they use PFAS?
PFAS is the forever chemical linked to cancer and makes vaccines less effective. Shame on these companies!
I highly recommend watching Dark Waters, inspired by the true story of Robert Bilott and stars Mark Ruffalo as the attorney. He took on the DuPont company in an environmental lawsuit. Thank God for this tenacious attorney who devoted his time and career to uncover deadly dark secrets that connect a growing number of unexplained deaths to one of the world's largest corporations, DuPont. While trying to expose the truth, he finds himself risking his future, his family, and his own life.
Hiding the truth and still manufacturing products with PFAS are going on today. You can be in danger of being exposed to this deadly chemical. Thanks to the Ecology Center for testing several pans. They found the "forever chemicals" known as PFAS were in most nonstick cooking pans and baking pans. These products are coated with a polymer form of PFAS (per- and polyfluorinated alkyl substances) called PTFE (polytetrafluoroethylene). PTFE is known by brand name Teflon™. 
Why should you be concerned about PFAS? It is linked to liver disease, thyroid disease, asthma, cholesterol buildup, impaired response to vaccines, high blood pressure, lowered fertility, testicular and kidney cancer, and other degenerative diseases. 
This month's presentation in the Total Wellness Empowerment membership will be on a Gentle Detox protocol and an update to the Covid crisis. Become a member to be part of the live presentation and access the portal with past presentations to view at your pace and be empowered. We must become our best health advocate since these companies do not have your health in mind when making products. Discover the truth and become an educated consumer.
Your health and life are worth it!
Here are the pans that contain extremely toxic chemicals that are linked to cancer and degenerative diseases.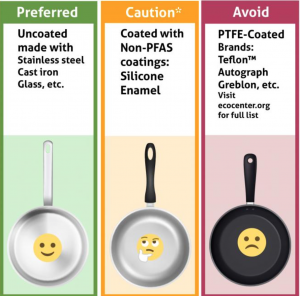 Tags: covid crisis, detox, forever chemical, Nancy Guberti, PFAS, total wellness, Total Wellness Empowerment