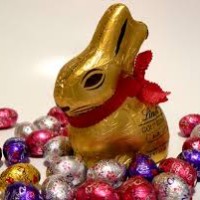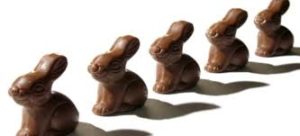 To address the numerous inquiries I have received from parents wanting to offer their children and grandchildren a healthier alternative to the conventional Easter candy, here's my roundup. First and foremost, let's not forget to keep the daily sugar grams to 22 grams per day;)
1. EnjoyLife: Personally, I would melt the mini chocolate chips and then pour the melted chocolate into molds, refrigerate the molds so they harden into the candy of your choice.
This company is casein-dairy-free, egg-free, nut-free, wheat-gluten-free, corn free:http://www.enjoylifefoods.com/chocolate-for-baking/
They also offers chocolate bars: http://www.enjoylifefoods.com/chocolate-bars/
2. Indie Candy: free of the top 8 allergens: free of wheat, gluten, casein, dairy, egg, tree nut, fish/shellfish or sesame products. http://www.indiecandy.com/category-s/119.htm
3. Sjaak's Organic Chocolates are gluten, soy, corn FREE at: https://sjaaks.com/categories/show/Easter
4. Amanda's Own Confections: great products & read this FAQ page for specifics on what products contain soy or corn. Most do not: http://www.amandasown.com/FAQ.html This company is understanding of many food allergies as well.
5. for chocolate bunnies: Premium Chocolatiers at: http://www.premiumchocolatiers.com/ these products are milk free, nut free, gluten free and vegan but they contain some soy and corn
6. Divvies offers nut, egg, dairy free candies at: http://www.divvies.com/ they contain some soy as an emulsifier
7. Ethereal offers gluten free, vegan but contains some soy: http://www.etherealconfections.com/easter-chocolate.html
8. Lake Champlain offer organic milk & dark chocolates containing milk at: http://www.lakechamplainchocolates.com/seasonal-chocolates/easter-bunnies/
9. Allison's Gourmet: contains non-gmo soy emulsifier Easter Chocolates: http://www.allisonsgourmet.com/vegan-confections-fudge/vegan-easter-gifts.html
10. Lagusta's Luscious: contains soy lecithin, cornstarch: http://www.lagustasluscious.com/shop/seasonal-specials?zenid=97ffbb2c221313c1ca122f4465a8ec49
11. No Whey Chocolates: contains soy lecithin: http://www.veganlightchocolatenowhey.com/shop/bunny
12. Rose City Chocolates: contains soy lecithin: http://www.rosecitychocolates.com/vegan-easter-products.php
Here's some other Easter candy companies:
For lollipops and gummies: http://www.yummyearth.com/
Here's their allergen ingredients list: http://www.yummyearth.com/ingredients.html
Jelly Beans: http://www.surfsweets.com/
There are also many non-candy holiday ideas ranging from arts and crafts to cool robotic or sports-related products for boys and girls. We do not have to always involve candy around the holidays so less is better if we are choosing to offer some holiday treats. Whatever you decide, the children will feel special because you put love and consideration into your treat.
Wishing everyone a happy and healthy Easter.
Tags: chocolate, Easter Candy, eggs, Jelly Beans, Lollipops, Nancy Guberti, organic candy, vegan candy