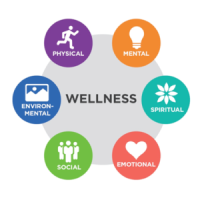 Mind-body wellness is attainable. Make this year be the one where you learn how to reclaim your health, happiness, and energy for life. Experience this year with a clear mind, increased energy, balanced digestion, strong immunity, and feeling fabulous.
Are you living with purposeful passion?
Reflect and ask yourself this question.
What's my purpose?
Here are some thought-provoking and reflective questions to ponder for self-discovery:
Am I doing something that I am passionate about?

Am I doing what I love?

Am I attracting good people, ideas, and opportunities that align with my passion?

Have I discovered my purpose? If yes, then am I doing something about it? 

If your purpose has yet to be discovered, are you reflecting or reading and listening to self-discovery podcasts, videos, and books?

Are your life challenges bringing you closer or further to your passion and purpose?
Take time to reflect on each of these questions and your answers. Journal and meditate on them.
First, you should get clear on your passion and purpose; then, it's time to take the next step to fulfill your desire.
Total wellness of mind-body-spirit is when you control your health and lifestyle and live the life you desire aligned with your purpose and passion. 
Ask yourself which Lifestyle factors you are working on daily and which you need to remember to include.

Filling our bodies with sugar, tobacco, alcohol, drugs, and other toxic substances will compromise our physical well-being. However, suppose you examine these practices in detail. In that case, you will discover that one of their purposes is to make us "feel better" or "relax us" by tranquilizing our doubt, fear, guilt, anger, and other emotional upsets. Please get to the triggers, for that is how you remove them.

It's a good reminder that our seemingly small, daily actions make a difference.
If you're not doing something almost every day to create change in the future, it might be time to start being more intentional about your days.
After all, most of us don't want to wake up three—or ten—years from now in the same place as we are today.
Let's get this working in action with the power of I AM statements.
Who do you say you are?
Did you know something is compelling when you declare who you are and own your power? 
Every morning and every evening, you should start the sentence with I AM…
then repeat three words to explain who you are.
Here are some powerful examples:
I AM Blessed
I AM Strong 
I AM Talented
I AM Smart 
I AM Happy
I AM Loved
I AM Healthy 
I AM Successful 
I AM Driven 
I AM Creative
I AM Kind
I AM Compassionate
I AM Whole
What's your I AM?
We deep dive into all these topics in the Total Wellness Empowerment Membership. If you are finally ready to take charge of your health and life, become a member today.
If you want a career you love and set your schedule to build your best life now, then register to become a certified health coach today. Why wait?
Here's to your success and reaching total wellness of mind and body.
Tags: certified health coach courses, Health Coach, I AM, mental health, Nancy Guberti, total wellness, total wellness empowerment membership, Wellness