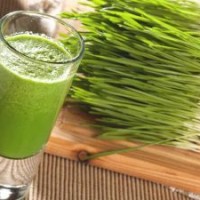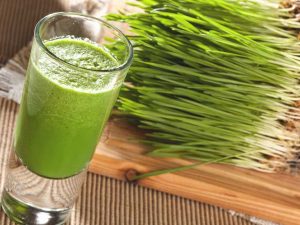 https://youtu.be/KpkbCI8NME0
Lovin' Wheatgrass
Hi! It's Nancy Guberti, Functional Medicine Specialist, Nutritionist, and Healthy Lifestyle Coach.
Watch on YouTube at: https://youtu.be/KpkbCI8NME0
And today, I want to show you a quick, nourishing, as well as detoxifying beverage. So, what we have here is some organic wheat grass. You know, I was never a big fan of wheat grass when I would get it in actually the pulp type format. It tastes as if you are actually drinking grass! But this is such a great product and they give you that little scooper you put the whole thing in and then if you like it this way, then drink it straight. I love to add Bragg's Apple Cider Vinegar just to give it a little tangy taste. And if you like to sweeten it up, you can add some organic stevia, depending on how you like it, sweet or tangy. Some people don't want to add anything at all. So you want to play with this to get it to the way you like it. Then you have an amazing green drink.
Many people don't like to juice, because they say it's too messy and they have to clean up the mess. Well, there's no mess here. You could add lemon or lime to it. If don't like it at room temperature, you could add some filtered ice cubes to it as well. Very simple, no mess and what you are doing is you are actually getting protein from this green drink and it actually detoxifies your body. So this is something quick and easy with how many ingredients…let's count, we have Gregg's Apple Cider Vinegar, we have the organic wheat grass powder, and if you need you have your stevia, and then you have your either filtered water or spring water. I wouldn't recommend distilled water at this point; I would go with spring water. And you could either have this before a meal, sip it throughout the day, it's very nourishing.
Let me know how you do with this drink. Did you add the Apple Cider? Did you add the stevia? Did you use this product? Is there another product that perhaps you like to share with us?
Remember you're doing all of this because your health is worth it because YOU are worth it.
Bye now.
Don't Miss Out...
Enter your name and email address to be empowered to live a healthier lifestyle!

We value your privacy and would never spam you
Tags: detox, wheatgrass