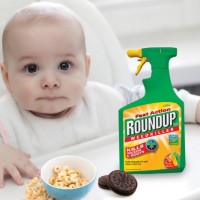 What did you have for breakfast? Hopefully it wasn't any of these cereals loaded with the cancer chemical glyphosate. Here's a sample of the list of cereals loaded with this super toxic chemical: Quaker Old Fashioned Oats, Cheerios, Quaker Dinosaur Egg Instant Oats, Great Value Instant Oats, and Back to Nature Classic Granola.
I've been presenting to other practitioners on this topic for years now and it's alarming that the label does not have to list this chemical.
Don't fall victim to this super-toxic chemical as it can be in the foods you eat & pesticides exposed to. Eating Cheerios or Oreos? Then you're consuming it but it's on so many more foods than you can imagine! It's a pre-harvest spray on wheat, corn, oats, and not listed on label. It's used to desiccate a wide range of other crops including lentils, peas, non-GMO soybeans, corn, flax, rye, triticale, buckwheat, millet, canola, sugar beets, and potatoes. Sunflowers may also be treated pre-harvest with glyphosate, according to the National Sunflower Association. Make sure to purchase organic food to avoid this chemical.
Be proactive & check your glyphosate levels.
Seen the latest –> Jury orders Monsanto to pay $289 million to a cancer patient. Jurors were asked: "Did Monsanto fail to adequately warn of the danger?" They answered YES!
Reuters reports, "Use of glyphoste-based weed-killers should be halted during the current legislative period which ends in three years, a spokesman for the German environment ministry said on Monday…"
The journalist Cary Gilliam stated: "Monsanto's attempt to cover up studies linking the chemical with the disease for decades. With this verdict and more than 4,000 other plaintiffs waiting in the wings, Monsanto could be in court for decades to come and it could cost them and its new owner, Bayer, hundreds of millions – if not billions – of dollars in damages."
Start protecting yourself today with these 3 ways to reduce your exposure to glyphosate.
Stay up-to-date with recent news and research. If you're trying to live a healthier lifestyle and avoid pesticides, especially those that are harmful like glyphosate, it's important to stay update with new and emerging research on these chemicals.
Take Charge of your health by joining Total Wellness Monthly Membership today. This is a proven system that keeps you moving towards your optimal health goals with weekly videos and action items. Love for you to join the Community & gain access to the empowering information to positively impact your life. 
Checkout my biz FB page posts. Stay informed and make smart consumer purchases that will help you reach optimal health.
Are you worth it? I think YOU are!