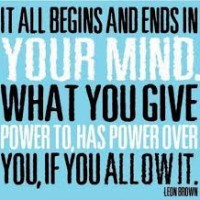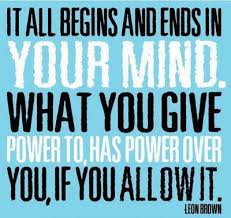 Buddha was right! He said, "The mind is everything. What you think you become." He believed we wish to avoid suffering. Let's look at food as it seems to be one of the main interests as human beings. Ironically, the food we consume has a direct impact on our physical and mental health and for many, suffering.  Living in a state of awareness, developing a healthy relationship with food choices and portions while implementing healthy lifestyle choices is crucial to avoid suffering. Either you struggle or succeed with this fundamental issue. Avoid living in limbo going for one health fad to another, perhaps, yo-yo dieting and spiraling down a path of uncertainty and uneasiness.
Mindset formulates behaviors that can lead to addiction or healthy living.  I see it all the time in my practice, after functional medicine lab tests are run, review of the test results and the customized regime, the success or failure of follow-through starts and ends in the mindset.
Three Tips to Cultivating a Positive Mindset:
Visualize yourself reaching your health goals as mental pictures will influence your subconscious mind. If needed, create a vision board with images of how you want to look and feel. Create the picture of your future. See yourself doing and being in a positive progressing state.
Take Action Now that you have visualized how you want to feel and look, it's time to do the work to reach these goals. Don't procrastinate, instead take bold action in less time to achieve your goals and keep work-life balance in check.
Tap into the Power of Positive Affirmation Do not underestimate the power of positive affirmations since these thoughts will be passed along from your conscious mind to your subconscious mind. Repeat the same three words to describe your goals for yourself. Write it down on Post-iit notes or index cards and place them where you can see them each day. Repeat them outlaid each morning as a daily ritual to set the tone for the day. Setup reminders of these three words to your iPhone at a set time each day until it becomes part of your thoughts and deeds.
By doing this you will be on the road to self-discovery, self-confidence and a fierce warrior!
Ready to take charge of  your health and for your loved ones?
Register for the Nine Steps to Healthy Lifestyle program and learn at your own pace with nine weekly videos along with weekly worksheets at such an amazing investment for you!
You'll receive cool bonuses (FREE two 30 minute Skype sessions with Nancy) as well;) just because you are taking your health seriously and committing to a healthier YOU!
Register by clicking this link TODAY;)
Your Health is Worth it because YOU are Worth it!
Want to be part of a monthly membership community where you will be empowered on a weekly basis with healthy living & mindset strategies, then check out the three membership levels here: Membership program that gives YOU support, advice and expert training to motivate you to feel your best and reach your goals for health, happiness & success!
Tags: Buddha, healthy lifestyle, mindset, Nancy Guberti, weight loss