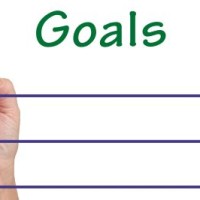 With each health goal, establish specific actions to achieve that goal.  If your goal is losing weight by doing more cardio, list out the ways you'll achieve that each week. Will you include scheduling two 45-minute spin classes and two 30-minute running or yoga workouts per week. If you want to remove gluten, dairy, corn, soy and/or processed sugar from your diet, then list substitute meals for breakfast, lunch and dinner as well as snacks. Start with one meal a day to avoid becoming overwhelmed. In other words, be sure to set a plan in place with the specific steps to accomplish each health goal. Create a plan that details the things you need to do each day, week and month in order to reach the ultimate desired outcome. Writing down your health goals as well as the detailed plan of tasks needed to implement to achieve your goals is crucial. Make a copy of your detailed plan and keep one in your kitchen, bedroom, bathroom, office or somewhere that you will read it daily to keep yourself on track.
Why write your health goals?
The written goals will provide clarity on what you want to accomplish while motivating you to take action.
Knowledge without action and implementation is failure.
The written goals will motivate you to take that action needed to implement and execute on your goals.
You must execute on your goals. You have to take action. Writing down your goals also gives you the opportunity to review them regularly to take the next most important action towards accomplishing that goal.
If you stay focused with you eye on the health goal then you will be able to filter out the shiny object distractions, self-sabotage activities, and/or negative thoughts that invade one's mind.
Every meaningful goal usually encounters some type of resistance from your own thoughts or from naysayers. As Taylor Swift would say, Shake it Off! The way to overcome the self sabotage thoughts is to focus on the health goal—the thing you want. Envision achieving that goal and hold that thought in your mind.
Because it will enable you to see—and celebrate—your progress.
Your health journey may actually be difficult and long term. It is particularly difficult when you aren't seeing progress at the beginning or getting results at a speedy pace. You may feel like you are working hard and getting nowhere. Written goals are like mile-markers on a highway. They enable you to see how far you have come and how far you need to go. They also provide an opportunity for celebration when you attain the goals on the way to the final health destination.
P.S. Have more wellness empowerment to share with you…so never miss a beat by staying in touch here.
Don't Miss Out...
Enter your name and email address to be empowered to live a healthier lifestyle!

We value your privacy and would never spam you
Tags: anti-aging diet, Beauty, Diet, goals, health, Shake it Off, Taylor Swift, weight loss