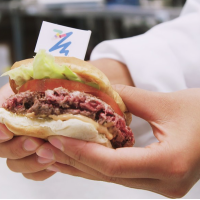 BareBurger is all about being organic yet they offer the 'Impossible Burger'. #barebetrayed
Know what that Impossible Burger is? Water, Textured Wheat Protein, Coconut Oil, Potato Protein, Natural Flavors, 2% or less of: Leghemoglobin (soy), Yeast Extract, Salt, Soy Protein Isolate, Konjac Gum, Xanthan Gum, Thiamin(Vitamin B1), Zinc, Niacin, Vitamin B6, Riboflavin (Vitamin B2), Vitamin B12.
The Impossible Burger's claim to fame as a meat substitute is the use of a genetically modified soy-derived form of a protein called heme that gives meat its distinctive blood-like color and taste. Known as legume hemoglobin or leghemoglobin, this plant form of heme is found naturally in the root system of soy plants in exceedingly small quantities. It has been estimated that it would take one acre of soybeans to yield just a kilogram (2.2 lbs) of soy leghemogrlobin.
It's not organic, actually has Roundup herbicide, glyphosate and genetically modified, making this one of the least natural and least healthy products.
Impossible Foods is "misleading consumers" about the key ingredient in the Impossible Burger.
* The Company told the U.S. Food & Drug Administration (FDA) that its soy leghemoglobin was "substantially similar" to proteins consumed daily by the global population, in the form of meat and other vegetables.
However, on the Impossible Foods website, it claims that the heme in the Impossible Burger is "identical" to the heme humans have been consuming for hundreds of thousands of years in meat and other foods.
* The FDA told Impossible Foods that its arguments "do not establish safety of SLH (soy leghemoglobin) for consumption." The company decided to sell the Impossible Burger to the public anyway.
* Impossible Foods relied on the expert testimony of scientists who have worked for or have links to Monsanto, the Gates Foundation, Philip Morris and all of the major biotechnology companies.
UNBELEIVABLE…keep informed and empowered by joining today at Total Wellness Empowerment Membership.
Take Charge of your health & be your best health advocate, savvy consumer and healthiest YOU by joining Total Wellness Monthly Membership today. 
Are you worth it? I think YOU are!
Tags: bare burger, impossible burger, total wellness empowerment membership