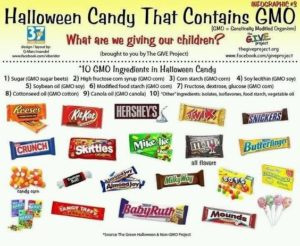 Halloween should be a time for fun and excitement for kids of all ages but danger really does lurk in the background. And I'm not talking about those creepy looking clowns either! Truth be told…Halloween candy is packed with really unhealthy ingredients that go over and above the sugar infused ingredient. The candy is a witches brew of genetically modified organisms, artificial ingredients, carcinogenic in nature and loaded with heavy metals. Unless your kid is stopping by my house then they are going to be receiving and ingesting lead, mercury, arsenic, chromium and other heavy metals. If you are pregnant and ingest the candy then you are potentially passing heavy metals to the baby inside of you. So let's look at the numbers, if 5 mpg of lead is toxic for a child then less would be toxic for the fetus and more would be toxic for an adult. Hopefully, everyone can properly detoxify and they have ample glutathione reserves in their detox pathways.
Here's a list of the amount of lead, mercury, and arsenic allowed in common food dyes – food dyes commonly included in Halloween candy & other processed foods, even in prenatal vitamins, children and adult multivitamins! (1 ppm (part per million) is equal to 1 milligram per liter (mg/L) or 1 microgram per milliliter (mcg/ml))
FD&C Blue No. 1: Arsenic < 3 mcg/ml; Lead < 10 mcg/ml
FD&C Blue No. 2: Lead < 10 mcg/ml; Mercury < 1 mcg/ml
FD&C Green No. 3: Arsenic < 3 mcg/ml; Lead < 10 mcg/ml; Mercury < 1 mcg/ml
Orange B: Arsenic < 1 mcg/ml; Lead < 10 mcg/ml
Citrus Red No. 2: Arsenic < 1 mcg/ml; Lead < 10 mcg/ml
FD&C Red No. 3: Arsenic < 3 mcg/ml; Lead < 10 mcg/ml
FD&C Red No. 40: Arsenic < 3 mcg/ml; Lead < 10 mcg/ml
FD&C Yellow No. 5: Arsenic < 3 mcg/ml; Lead < 10 mcg/ml; Mercury < 1 mcg/ml
FD&C Yellow No. 6: Arsenic < 3 mcg/ml; Lead < 10 mcg/ml; Mercury < 1 mcg/ml
So when you are chomping on those cute little colorful M&Ms, remember that they contain Blue 1 Lake, Yellow 6, Red 40, Yellow 5, Blue 1, Red 40 Lake, Blue 2 Lake, Yellow 6 Lake and Blue 2, along with GMOs from sugar and soy and artificial flavors. Skittles are it's toxic twin containing 9 different artificial colors! Let's not forget about Starburst.
Can you handle the truth? Better yet, is your health worth compromising for these little toxic candies?
If you read my recent blog about partially hydrogenated oils then you may want to stay away from the 3 Musketeers, Twix, Milky Way, Kit Kat, Mounds, Whoppers, Snickers & Reese's cause they contain hydrogenated palm kernel oil.
Last but not least, many of the Halloween candies (Mars, M&Ms, Skittles, StarBurst & Twix, Cadbury, Dentine, Good & Plenty, Mentos, Trident, Eclipse, Allen's Kool Mints, to just name a few) contain NANO materials such as titanium dioxide. Why is this the scariest of all? Studies show that this nano-material, nano titanium dioxides, can cause pathological lesions of the liver, spleen, kidneys, and brain; lung tumors; and inflammation, cell necrosis, and dysfunction in the kidney.  If you are reading labels look for anti-caking agent, titanium dioxides, and whiteners, so you can avoid them.
Still want to give out candy for the trick-or-treaters, then purchase organic candy since they are not allowed to contain nano ingredients, GMOs and artificial ingredients. Some organic brands are Yummy Earth, Endangered Species, Surf Sweets, Go Organic, Justin's Organic, Amy's Organic, Mini Ocho, &  Theo's Kids.
Resources:
There's Nano in Our Food?" What You Need to Know about Nanotechnology and Food Safety
Titanium dioxide nanoparticles: a review of current toxicological data
Ready to take charge of  your health and for your loved ones?
Register for the Nine Steps to Healthy Lifestyle program and learn at your own pace with nine weekly videos along with weekly worksheets at such an amazing investment for you!
You'll receive cool bonuses (FREE two 30 minute Skype sessions with Nancy) as well;) just because you are taking your health seriously and committing to a healthier YOU!
Register by clicking this link TODAY;)
Your Health is Worth it because YOU are Worth it!
Tags: artificial dyes, artificial ingredients, Halloween candy, Nancy Guberti, nanotechnology, titanium dioxide