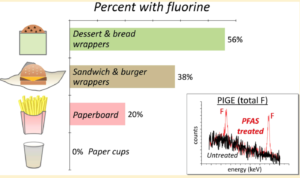 Besides the actual food or lack of, from the most popular fast food places, you are probably  ingesting harmful chemicals from the packaging.
About one-third of containers, wrappers and boxes for fast food contain a chemical named fluorine. This is how the food may be exposing everyone to harmful chemicals, according to a new study.
Scientists tested the food packaging for fluorine, PFAS and PFCs. Such chemicals are used in fast food packaging because they resist grease and stains. But these chemicals can migrate from the packaging into the fast food. Such chemicals have been linked to cancer, development disorders,  immune issues, low birth weights and decreased fertility.
The study researched and found these chemical compounds in many of the samples from McDonald's, Burger King, Taco Bell, Chick-Fil-A, Jimmy John's, Quiznos, Starbucks and Dunkin' Donuts, to name a few.  About half of the paper wrappers (holds a burger or pastry) and 20% paperboard samples (pizza boxes, French fry containers) had fluorine.
World Health Organization deems PFOA a possible carcinogen, and U.S. National Toxicology Program considers PFOA and PFOS likely toxic to developing immune systems.
"Limiting our current exposures should be regarded a public health priority."-Phillippe Grandjean, Harvard University
The world is so toxic today so you must do you part to reduce the toxins in your food and environment…not to mention the toxic people that may be in your life 😉
Be Toxic-Free my friend!
Stay in the Know and Get up-to-date on the latest health strategies on living a healthy life!
Take Charge of your health by joining Total Wellness Monthly Membership today. Forget New Year's Resolutions, this is a proven system that keeps you moving towards your optimal health goals with weekly videos and action items. Love for you to join the Community 😉
Reference: Environmental Health News