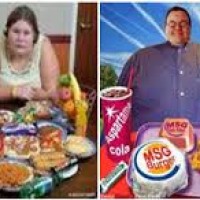 What we eat is central to our health. Garbage in, garbage out. We remember our core when it comes to exercise and that's why there are ab exercises but too many times we forget about our 'core' when it comes to what we are fueling our bodies with. The food we eat provides information to our cells and metabolic functioning. Wrong foods can affect our metabolism and deter our best efforts in reaching optimal health. Food impacts our health and can lead to us being overweight, undernourished, and at risk for the development of diseases and illness, such as arthritis, migraines, diabetes, heart disease, gout, acid reflux, liver damage, stroke, obesity, to name a few.
Food should act as medicine in order to maintain us, prevent and treat disease. When food does not supply nutrients then our cells, metabolic processes slow down and stop functioning properly causing imbalances among our internal systems.
If good food choices are consumed then healthy nutrition provides nutrients for our bodies to function properly. Therefore, shifting our mental mindset on focusing on foods that we need to include to reach optimal health and proper functioning should be the main focus. Many people feel deprived when they focus on the foods they need to avoid, instead focus on what foods we need to be healthy.
Ask yourself if your food choice will nourish your body and make you stronger or deter your best efforts to live a healthier lifestyle.
Look to your food choices as a catalyst to create health and reduce disease by helping your body function properly.
Your Health is Worth it because YOU are worth it~
This is your year to reach your goals.
P.S. Have more wellness empowerment to share with you…so never miss a beat by staying in touch here.
Don't Miss Out...
Enter your name and email address to be empowered to live a healthier lifestyle!

We value your privacy and would never spam you
Tags: anxiety, detox, Functional Medicine, goals, Health Living, weight loss, Wellness